Livewires think outside the box
Livewires thrive outside their comfort zone
Livewires live brilliantly, and Brad is no exception.
October 31, 2007, the Montreal Gazette reads… "With Brad Carmichael, one of the finest young actors on the scene, giving his all in the central role, Fallen Angel's production of (Quills) the 1995 stage hit serves up a compelling evening of transgressive theatre…." 
More than a decade ago, our 'Digital Producer Brad' put his stamp on the Montreal theatre scene and garnered critical acclaim for his strong and gutsy performances. And this is just one stop on his jam-packed personal journey thus far. Intrigued? …Me too.
Let's start from the beginning.
Early allure
Brad's love of performance began at an early age. In school he enjoyed nothing more than getting a laugh out of his classmates and teachers. He was naturally drawn to situations that put him 'front-and-centre' and by the age of 13, Brad had his first agent and his first audition. High school drama classes provided the perfect backdrop to work closely with like-minded students, get into character and hone his acting chops. Brad quickly realized that the energy he felt while performing was something he wanted more of.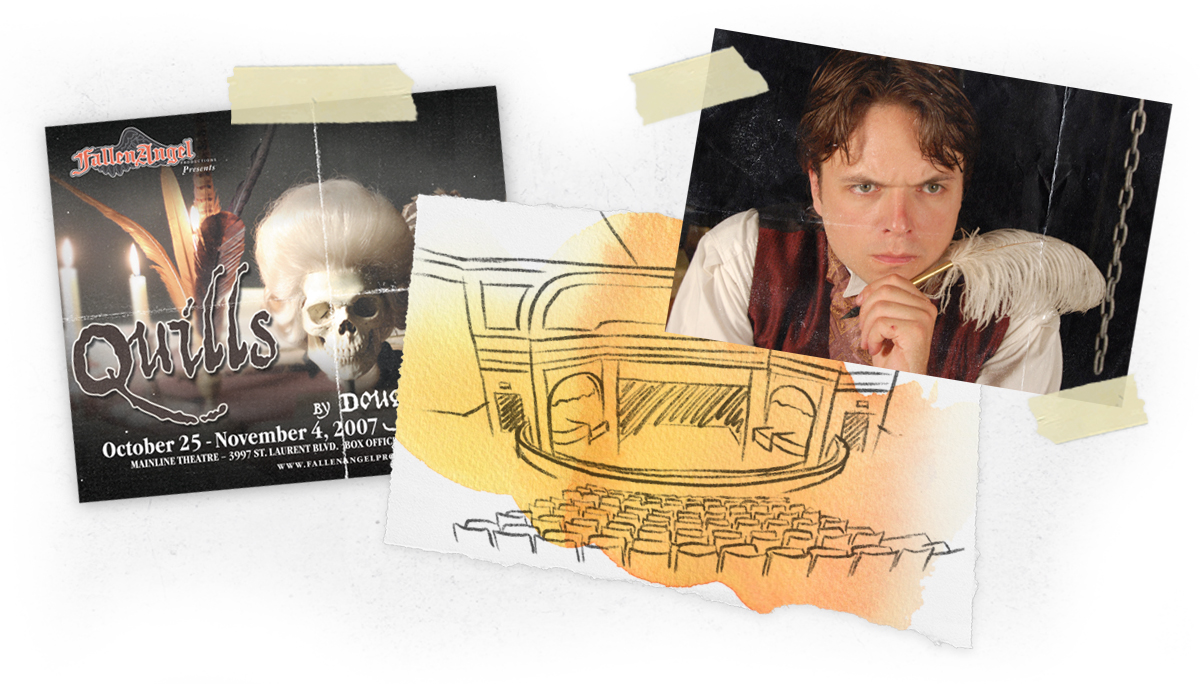 Flying the coop
"Young Brad" grew up in Fort Saskatchewan, a small rural prairie town situated 25 kms north east of Edmonton, Alberta. There are two ways it can go when growing up in a small town; you either feel content in your surroundings and you settle in, OR you crave anything but - and leave the first chance you get. Brad chose the latter. After finishing high school, he and a childhood friend took off to Vancouver, B.C. to see what life had in store outside 'The Fort'.
Sharing an apartment near the beach, Brad worked in various restaurants and fully embraced the west coast lifestyle. The big city was wildly different to him and he loved the hordes of people and the continuous flow of energy. He was fascinated by the diversity of cultures and socio-economic backgrounds and happily immersed himself in the mix.
Brad didn't pursue acting in Vancouver but he secretly longed to get back on stage. With a friend's encouragement, Brad auditioned for, and landed an acting job in Whistler, B.C. This was all that was needed to rekindle his passion and motivate him to pursue acting more seriously. With more certainty than ever and a plan in place, Brad bought a used VW van, loaded up his belongings and set out on a cross-country trek to Montreal, QC, a thriving acting scene at the time.
Brad wasted no time settling into a busy routine in Montreal. He got a job at a bank, got an agent, while taking French lessons and acting classes to up his game. Before long, Brad was auditioning and landing roles in theatre productions around the city.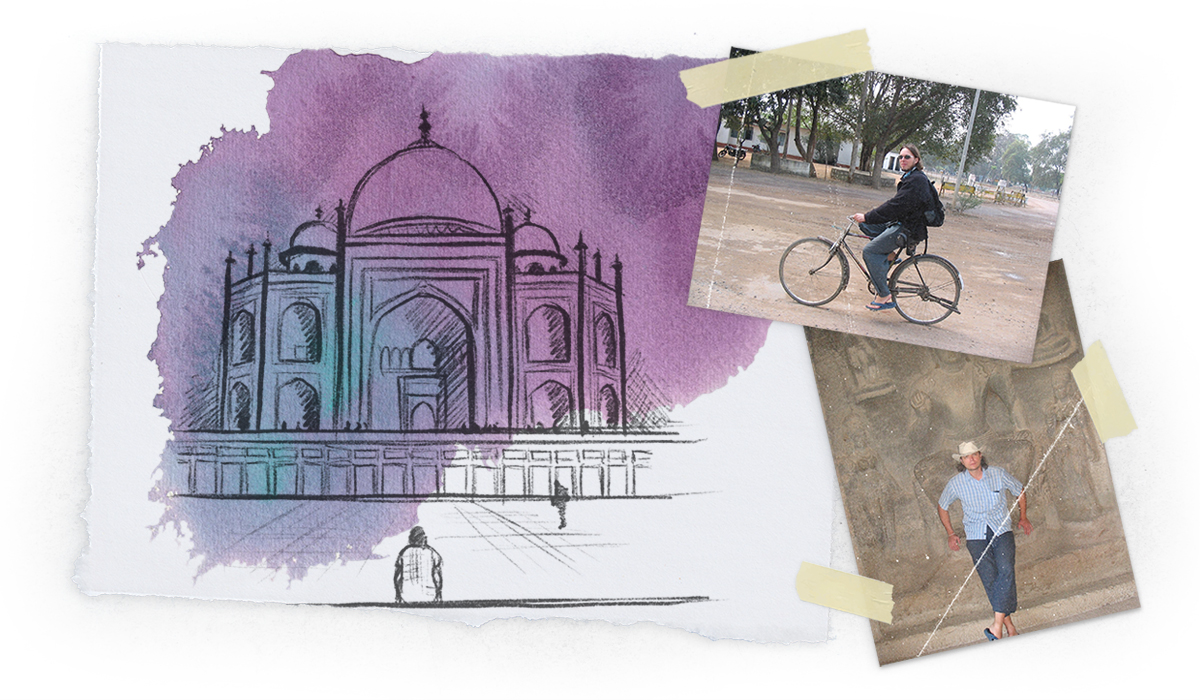 Deepening perspective
Five years in, still burning the candle at both ends, working and juggling acting gigs, Brad was beginning to feel stagnant and burnt-out. Desperately needing a fresh perspective and a change of gears, Brad set his sights on travels abroad.
From the moment he stepped off the plane in India, Brad felt his world open up. Over the next three months, 'Backpacker Brad' was completely captivated by what he experienced while traveling across India and Sri Lanka, the sights, the sounds and smells, the food, the culture and the landscapes. The energy of the people, their smiles, their kindness, their generosity - all amid hardship and poverty - provided a powerful new perspective for Brad. The experience was life-changing and just what his soul needed.
Back in Montreal, mentally and physically refreshed, Brad began a solid run of acting work which earned him praise for his brave performances, both stage and screen. In the fall of 2006 he joined Montreal director, Frances Balenzano's production company, Fallen Angel, where he played various leading roles including Marquis de Sade in Quills, which won him critical acclaim.
Years later, again feeling stuck in a cycle, Brad set his sights on exploring yet another part of the world – the time was right. He and Frances, both motivated by change and uncertainty, shut down the production company and set out for a nine-month trek across India, Indonesia, China, Vietnam, Cambodia, Thailand and Laos.
Unfortunately, the adventure did not get off to a good start. In week three of the trip, atop a mountain on the island of Java, Brad became severely ill. Brad and Frances made their way down to the base of the mountain where Brad spent four days with a sky-rocketing fever that wasn't budging. It was clear he needed medical attention. They booked a bus and travelled 15 hours to Yogyakarta where they could catch a flight to Singapore. Doctors never determined the cause of Brad's fever, but after two weeks of rest in Singapore, he started to feel "Brad" again. Well enough to push forward with their plans, Brad and Frances jumped back into month two of their travels and headed to Hong Kong.
A new frontier
Returning home to Montreal with a boatload of life-changing, character-building experiences, Brad felt it was time to take a break from "Adventure Brad" and pursue a more predictable pay cheque and stable lifestyle. This meant looking beyond acting and exploring a new career path - one that not only provided security, but also challenged and fulfilled him creatively. He knew there was no better place than Toronto to do that.
At first, he tried his hand at sales, and joined a company who sold CMSs for the global hospitality industry. Before long he found himself wanting to learn more about how the CMS was built and less about how to sell it. His gut told him that web development could be the change he was looking for. "Pragmatic Brad" took a deep-dive into intense web development training and before long he secured his first digital role.
Today, as a Livewire, Brad draws comparisons between his work as digital producer and his theatre experiences. "In theatre you work together as a family, playing off one another. It is true collaboration. At Livewire there is a similar sense of working as a team - figuring out together the best approach to creating the best result."
'Livewire Brad' is invigorated by change, excited by uncertainty and motivated by opportunity– these are drivers of his journey and why theatre, travel, and change are compelling chapters in his life story so far.
And that's what makes 'Digital Producer Brad' a Livewire.