The principle measurement for the success of a CEO's leadership is their ability to shape and execute a winning strategy for their organization. The key driver for success is to ensure the strategy is understood and embraced by the people who will put it into action.
Once a new CEO has defined a vision for their organization and set a course of action for the business, they need to get buy-in from employees in order to deliver on their plan. According to the Harvard Business Review, "engaging for impact" is one of the key behaviours that sets successful CEOs apart. Those that excel execute disciplined communication and influencing strategies based on insight and understanding of their stakeholders' needs and motivations. In addition, how a leader interacts with employees is critical; every gesture and phrase will be interpreted by their audience.
How does a new CEO shape their communications to build employees' confidence and trust in their leadership? A senior level transition is one of the most important changes an organization will face, and one that can create a high level of uncertainty. There is a lot at stake: The Center for American Progress estimates that the cost of turnover of senior leaders is as high as 213% of annual salary at the executive level.
The profile and level of scrutiny corporate leaders undergo has also changed. Through social media and a constant news cycle, leaders have become more visible, and the alignment of internal and external messaging has become essential. Take the case of General Electric (GE), which recently disclosed that it was replacing its CEO, John Flannery, after an emergency vote by its Board of Directors.
On October 1st, 2018, the company announced that Flannery was being replaced by Larry Culp, the former CEO of Danaher Corp. Hourly Google searches for Larry Culp and GE spiked, as did GE's stock, which rose 2.6% after the move was announced by major media outlets and financial publications.
Internal communications surrounding leadership transitions should be approached with the same rigour and discipline as are external communications. Alignment between the two results in a more successful transition.
It's an established rule that the first 100 days of a leader's tenure is critical. For GE, Larry Culp is the first outside CEO in the company's 125-year history. In instances such as this there is a lot to consider, especially if the change is being made suddenly and because of lagging performance. What emotions are the employees experiencing? What are the opportunities for engagement, optimism or anxiety? Internal communications should be focused on anticipating the potential impact the change has on employees.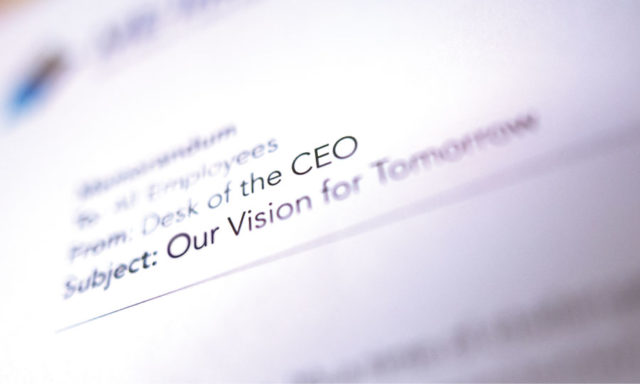 The best internal communication strategies are grounded in solid insight, so the first step toward building a communication plan for an incoming CEO is an insight process. A review of a new leader's previous communications should be conducted before a transition. Interviews with other leaders within the organization will help to identify both expectations and perceptions of the incoming leader, and engagement surveys that take the pulse of the organization will also help to determine employee perceptions of current leadership.
Before a new leader declares their agenda and plan for change, it is important to build confidence and trust with stakeholders. Continuity and consistency of messaging is key; without these, trust may be broken.
To ensure that consistency, a leader brand framework will help convey the leader's identity and value to stakeholders. Informed by the insight process, the brand framework starts with a value proposition that will answer how a leader, unique to anyone else, will provide value to the business and to employees. It also includes attributes; elements any leader must embody and those that are distinct to them, as well as their promise to employees. This is a concise statement outlining intentions that directly affect employees such as growth or investment in skills. Other elements include positioning, voice and tone.
The brand framework provides a one-page tool that can be used by the CEO's office, the communications team, and any supporting agencies to ensure consistency across all CEO communications. Along with the insight process, it becomes the guide for building the right communication strategy and plan.
Authenticity is essential; the brand framework captures and channels the key aspects of both leadership priorities and style. Leader transition communications don't happen in one week; there are demands for communications a month later and there are revisions to tactics six weeks later. The framework renews those ideas and opportunities every time; it grounds everything.
A new CEO may come from outside the organization, like GE's Larry Culp, but even if they come from inside, it doesn't guarantee they will be well-known enterprise wide. Often, part of the communication plan needs to be familiarization. Every touchpoint with employees and other stakeholders is an opportunity to build confidence in the new leader's knowledge of the business and future direction. This may come in the form of employee events or informal written and digital communications.
Accessibility is a priority in a familiarization plan. Employees need to see that the leader is listening and open to input. Later, communications may include updates to keep employees in the know about the leader's progress in executing their agenda. In addition, a visual standards guide is helpful in ensuring that leaders are presented consistently in all communication materials and at live events.
It is important to consider the nuances of internal audience demographics, especially if an organization has a large employee base with several audience segments. As such, the communication plan must consider different lines of business in different regions and different levels of employees; some may be 35-year veterans and others may have only been there for three months. The brand framework provides the guiding principles that help to identify the tone and message for each audience.
Creating the right strategy for an organization is the defining element of a CEO's success, but activating that strategy is critical. When asked in Gallup's State of the American Workplace survey what the most difficult transitional adjustments were, more than 55% of leaders cited getting work done through others and 46% identified engaging and inspiring employees. Statistics like these signify important drivers of success or failure. The right communication strategy can empower leaders and employees to succeed through a challenging time of change, and ensure the organization is positioned for continued success. 
ENDNOTES
Botelho, E.L.; Powel, K; Kincaid, S; Wang, D (2017).
What Sets Successful CEOs Apart. Havard Business Review.
(May – June issue) 70-77.