Most companies and industries are undergoing significant transformation due to digital disruption, increased competition, evolving regulatory environments, greater scrutiny of business practices and consumers with higher expectations for product and service quality. As a result, leading companies are embracing strategic employee communications to help deliver on evolving business needs. Although this has brought about a more mature understanding of employee communications within certain contexts, its full value in improving customer experience is yet to be recognized.
The value of strategic employee communications
Virtually all Fortune 1000 companies have dedicated employee communications roles. Most have entire departments and teams focused on generating and publishing content that's specifically targeted at engaging their workforces. Yet the value that executive teams place on employee communications varies across sectors.
In our experience of over two decades advising companies on strategic employee communications, we have seen the financial services and pharmaceutical industries demonstrating leadership in strategic employee communications. This could be due to the increased and complex regulatory scrutiny they experience which requires significant commitment from employees to execute their work to the highest standards. However, the relevance of strategic employee communications is far broader than is often understood and has a direct impact on business performance in every industry.
For instance, consider this: every day, coders in the tech sector and plant workers in manufacturing heavily influence customer experience through decisions about the design of products, services and interfaces, quality control and customer service. Aligning employees to the company's vision, and ensuring they understand the strategy and direction of the company has significant impact on business performance. When employees are motivated to do their best work, they are invested and engaged and this results in a better customer experience which, in turn, improves business performance.
The leading organizations with the most sophisticated approach to employee communication understand that employee engagement is important because it impacts employee retention, commitment, individual performance and, in the end, overall company performance.
The companies who understand these connections put in place thoughtful, strategic communication plans developed to communicate change, align employees to the company's purpose and brand promise, inspire their teams to believe in leadership's vision and have confidence in the decisions being made to achieve the company's aspirations.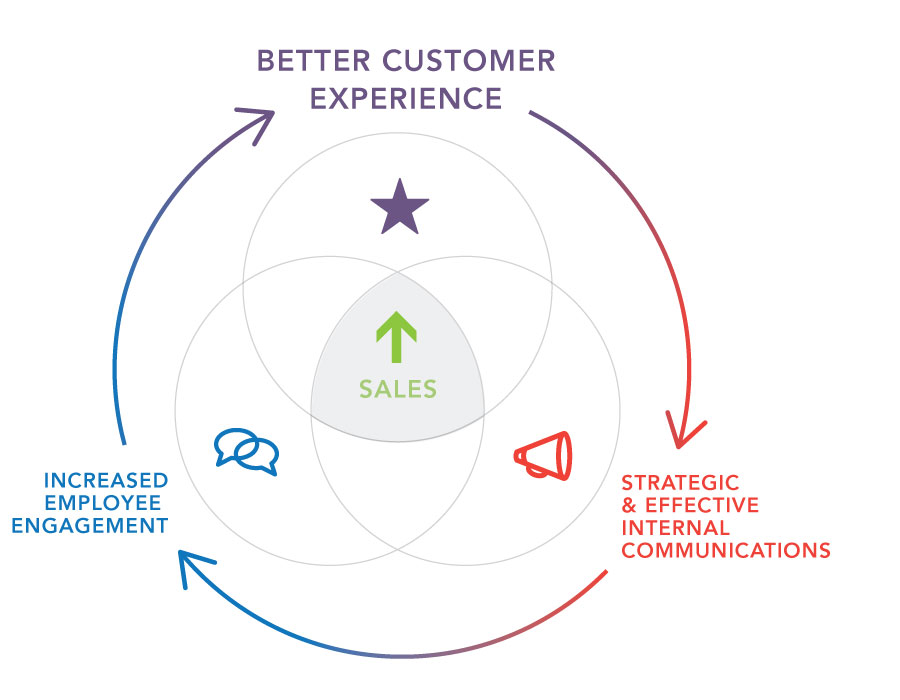 Here are four facts that, while from independent studies, become much more powerful when you think about them holistically and understand the relationship each has to another.
The majority of marketers believe they are competing on customer experience (Gartner 2016)
A better customer experience results in increases sales (Temkin 2018)
The most engaged employees deliver the best customer experiences (Gartner 2018, Gallup 2017)
Strategic and effective communications improve employee engagement (Jaupi 2015, Karanges 2014, Balakrishnan 2013)
Enabling an improved customer experience
While many leaders have embraced the value of effective employee communications during times of change, transformation or crisis, most have yet to recognize the full impact that sustained strategic employee communications can have on improving the customer experience, sales and loyalty.
This is an interesting disconnect, because there is no debate about the importance of customer experience. Business leaders and marketers across all sectors realize how important customer experience is to any company's business performance.
A 2015 study conducted by Gartner found that 89% of marketers surveyed expected to compete primarily based on customer experience. This is supported by research published by the Harvard Business Review (2014) which found that customers who had the best experiences spend 140% or more on a company's product or services than those who had poor experiences.
It's widely accepted that these customer experiences are the real moments of truth for any brand. Whether they're in-person, online or by phone, customer experiences are moments of truth driven by people. When you pay attention to who delivers these moments of truth to customers, the linkage to strategic employee communications becomes clear. They are driven by the employees who are providing the product or service with which the customer is engaging. When employees are fully connected to and engaged with the company's brand promise, values and supporting behaviours, they are more likely to deliver differentiating, on-brand moments to customers.
It's important to note that these moments of truth apply to all interactions a customer has with a company, not just at the point of sale. Here is one personal example: I recently went to a company's website to file a complaint after a poor experience. The 'Contact Us' process directed me to complete an online form. As I was investing my time to express my concerns, I reached a character limit in the 'share your concern with us' text box. It was limited to 200 characters. That's less than 1.5 tweets!
An employee, whether it was a senior leader, manager or tactician, made the decision to build the 'Contact Us' process in this way. And I imagine there had already been complaints about it. Here's a moment of truth that could have gone very differently had a more thoughtful and intuitive process been put forward by employees leveraging insights on how a customer would like to interact with their brand. This is equally true in technology interface design, manufacturing excellence and quality control decisions made by employees in any industry.
It's been shown that one important way employees become more engaged with their work is by seeing a clear linkage between their job roles and the organization's goals (Mansoor 2016). This is where strategic employee communications come in.
---
Employee communications help improve marketing ROI
By ensuring that employees are informed, inspired and engaged, strategic employee communications help boost the effectiveness of outbound company messages, improving the return on investment of a company's marketing spend.
When done right, employee communications will instill and sustain a constant awareness and understanding of the organization's purpose and brand promise across the workforce and ensure that all employees know what their roles are in achieving the company's priorities.
As leading companies are competing on customer experience, they approach it with discipline, rigour and strategic thought in order to get the best return on investment out of their outbound message. But the success of that outbound message is dependent on the experience that employees create in those moments of truth when the customer is looking for the brand to deliver on the promise it has made. It follows that the same discipline, rigour and strategic thought must go into ensuring that employees think, feel, and act in a way that will deliver the most optimal moment of truth.
This cannot be accomplished if employees don't have a strong personal connection to what their roles are in bringing that 'on-brand moment' to life. That connection is best instilled through stories told in the channels and media that employees want to engage with interactively by responding and sharing with colleagues and possibly even with friends and family. The stories need to achieve several things simultaneously. They need to be as strategic, creative, engaging and measurable as the messaging that is received by the consumer through marketing communications because, just as marketing messages are competing for consumer attention in an information-saturated environment, internal messages are competing for employees' attention.
However, when done right, it pays dividends, turning employees first into brand ambassadors and then into advocates. This can have a powerful impact on improving customer experience and business performance. 
---
ENDNOTES
Balakrishnan, C and D Masthan (2013). Impact of Internal Communication on Employee Engagement – A Study at Delhi International Airport. International Journal of Scientific and Research Publications, Volume 3 (8).
Gallup (2017). The Silver Lining of Customer Problems (Part 4). Retrieved from https://news.gallup.com/businessjournal/207587/silver-lining-customer-problems-part.aspx
Gartner (2015). Gartner Predicts a Customer Experience Battlefield. Retrieved from https://www.gartner.com/smarterwithgartner/customer-experience-battlefield/
Harvard Business Review (2014). The Value of Customer Experience, Quantified. Retrieved from https://hbr.org/2014/08/the-value-of-customer-experience-quantified
Jaupi, Fatma and Shyqyri Llaci (2015, April). The Impact of Communication Satisfaction and Demographic Variables on Employee Engagement. Journal of Service Science and Management. Published Online April 2015 in SciRes.
Karanges, E and A Beatson, K Johnston, I Lings (2014). Optimizing employee engagement with internal communication: A social exchange perspective. Journal of Business and Marketing Management. Volume 7(2): 329–353
Mansoor, F and H Zubair (2016). Factors influencing Employee Engagement: A study on a Telecommunication Network provider in Maldives. International Journal of Accounting and Business Management Volume 4. 50-64.
Temkin Group (2018). ROI of Customer Experience, 2018. Retrieved from https://temkingroup.com/product/roi-customer-experience-2018/